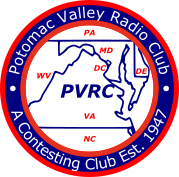 NSS Activation - Saturday May 12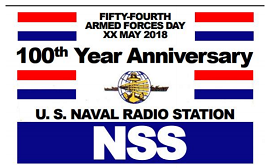 PVRC has received Navy approval to operate with the Naval Academy Radio Club for 13 hours during the 100th anniversary of the former NSS Naval Radio Transmitter Facility on Greenbury Point in Annapolis during the annual military Armed Forces Day Military Amateur Crossband Communications Test on Saturday May 12.
1300Z - 0200Z Saturday May 12th
CW and SSB (except 30 meters) on the following frequencies:
4,038.5kc 5330.5kc 7,533.5kc 9,447.0kc 14,487.0kc 17,545.0kc
We'll be operating using the callsign NSS just outside the ham bands, working cross-band QSOs with hams on CW and SSB.
The annual celebration is a unique opportunity to test two way communications between amateur and military communicators using traditional military to amateur cross band SSB and CW transmissions.
The Armed Forces Day test gives amateur radio operators an opportunity and a challenge to demonstrate their individual technical skills, and to receive recognition from the appropriate military radio station for their proven expertise via QSL cards provided to every station requesting a QSL for QSOs with military stations during Armed Forces Day operations. There will also be a special 100th Anniversary NSS QSL!
May 2018 Newsletter

This month the newsletter features the President's Letter, W3LPL on Cycle 24 Solar Minimum, 9A6A at Rappahannock Chapter Meeting in April, the W3LL SteppIR, K2YWE on PVRC'ers and 2018 International Marconi Day, N3QE in CQ Magazine, and more!
The PVRC Olympics has begun!
PVRC is now awarding gold, silver, and bronze medal awards for exemplary performance during the year!
The key is participation — in contests, across modes and in other PVRC activities.
All members, in and out of the circle, are participating and no application is required!
The quest for gold began July 1.
Check out our website: http://www.PVRC.org/Olympics-revB.pdf for rules and details.

Introduction to PVRC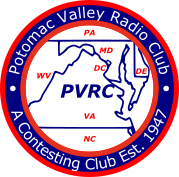 PVRC has a rich history going back to its foundation in 1947, with valued traditions defining our club.

"Once PVRC, always PVRC" expresses a positive open-ended membership policy reflecting the many lifetime friendships formed in the club. Many of these friendships now span the US and the globe, with PVRC alumni found in nearly every other major radiosport club.

Though we began as a small local club in the DC metro area, over the years we grew to in-territory membership in six states and DC. To foster the original local experience all across the PVRC territory, we are organized in local chapters. Over a dozen chapters provide members easy travel to meetings for the face to face experience that is the source of tower parties, physical help, elmering, personal encouragement, and just plain fun - the glue that bonds us together.

PVRC members are e-wired, in constant communication via the PVRC e-mail reflectors. We use the reflectors to organize and function as an entire club, schedule club-wide events, set ourselves up for contests, share experience and access the incredible knowledge base of our members. We draw our officers and trustees from all across the club territory, and they largely communicate across this geography via electronic means.

The PVRC 5 Million Award Program recognizes our members' contribution to club competition by awarding points for scores submitted on behalf of PVRC. We award a very neat plaque for reaching 5 million points with endorsements for levels beyond.

Please explore the PVRC web site to learn more about us, and we cordially invite you to contact an officer or a Chapter Chair to begin exploring how membership in PVRC can benefit you as a radiosport player and competitor!
Officers for 2018
Check the contacts page for full details. President is Bud Governale, W3LL, Vice Presidents are Jay Horman W3MMM and Dan Zeitlin K2YWE, Secretary is Tim Shoppa, N3QE and the Treasurer is Tom Valenti, K3AJ.