June 2017 Newsletter

This month the newsletter features the President's Letter including Dayton and the Sports Pages, Out of Circle? Maybe Not!, PVRC Reunion, NSS Cross Band Test, pictures from the first offical Blue Ridge Chapter meeting, and more! Click Here for the Full June 2017 Newsletter
Fowlfest - August 26
August 26 is the date for Fowlfest and 11:30 AM is the start time. Plans are to hold it at Seneca Creek State Park in the Bob White pavilion. For you GPS guys the address is 11950 Clopper Road. The park is accessible from exit 10 off of I270. A fee of $3.00 /pp for MD residents and $5.00/pp for out of state residents. This is an NCDXA and PVRC Regional event. There are private shaded areas with room for chairs outside of the pavilion. Electricity for radios along with towering pines 80 feet tall for hanging antennas. Plan on festivities ending at 3 pm. However, the pavilion is rented for all day. This is a Rain or Shine event. Funding is provided by Fred K3ZO for food costs excluding the pavilion. The RF Connection is sponsoring rental of the pavilion and the NW chapter of PVRC is providing the advertising. Look for WX3B's announcements.
NR4M - Saturday September 30
Further down the calendar is a PVRC Wide Event on Saturday 30 September at Steve's NR4M station. While billed as a PVRC wide event, all hams are invited. Steve is considering a minor fee to attend ($5). It's not so much to offset costs as to help guarantee that those who say they will attend do so. Fare will include pork shoulder, ribs, burgers, brats, drinks and whatever side dishes those who attend may bring.
Introduction to PVRC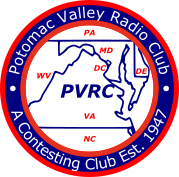 PVRC has a rich history going back to its foundation in 1947, with valued traditions defining our club.

"Once PVRC, always PVRC" expresses a positive open-ended membership policy reflecting the many lifetime friendships formed in the club. Many of these friendships now span the US and the globe, with PVRC alumni found in nearly every other major radiosport club.

Though we began as a small local club in the DC metro area, over the years we grew to in-territory membership in six states and DC. To foster the original local experience all across the PVRC territory, we are organized in local chapters. Over a dozen chapters provide members easy travel to meetings for the face to face experience that is the source of tower parties, physical help, elmering, personal encouragement, and just plain fun - the glue that bonds us together.

PVRC members are e-wired, in constant communication via the PVRC e-mail reflectors. We use the reflectors to organize and function as an entire club, schedule club-wide events, set ourselves up for contests, share experience and access the incredible knowledge base of our members. We draw our officers and trustees from all across the club territory, and they largely communicate across this geography via electronic means.

The PVRC 5 Million Award Program recognizes our members' contribution to club competition by awarding points for scores submitted on behalf of PVRC. We award a very neat plaque for reaching 5 million points with endorsements for levels beyond.

Please explore the PVRC web site to learn more about us, and we cordially invite you to contact an officer or a Chapter Chair to begin exploring how membership in PVRC can benefit you as a radiosport player and competitor!
Officers for 2017
Check the contacts page for full details. President is Bud Governale, W3LL, Vice Presidents are Ted Edwards, W3TB and Dan K2YWE, Secretary is Tim Shoppa, N3QE and the Treasurer is Tom Valenti, K3AJ.