The PVRC pipe awards
The PVRC Pipe Award Plaques are in! No expense was spared (literally) in providing these award plaques for the winners and runners-up of the three categories of minimal six meter antennas used in this competition. The plaques themselves were $0.59 at a craft store, and the PVRC pipe fittings were purchased for $0.27 at Home Depot. The original plan was to have engraved plastic plates made with the citations, but that was just too much trouble, so we went with printed paper labels. However, in order to ensure archival quality as these awards are passed down from generation to generation, the labels are protected with clear packing tape.

The winners are:
Moxon Category
W4FS 103/58 - Winner
N3HEE 81/34 - Runner up
6M Dipole Category:
K3YDX 135/77 - Winner
W4VIC 64/43 - Runner up
HF Antenna Category:
W4MYA 136/68 - Winner
N4RV 60/30 - Runner up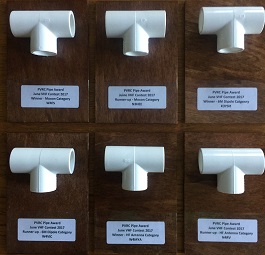 Please click on the thumbnail at left for full zoomed-in view of these unique awards!
The PVRC Olympics is about to begin!
PVRC is now awarding gold, silver, and bronze medal awards for exemplary performance during the year!
The key is participation — in contests, across modes and in other PVRC activities.
All members, in and out of the circle, are participating and no application is required!
The quest for gold begins July 1
Check out our website: http://www.PVRC.org/Olympics-revB.pdf for rules and details.
July 2017 Newsletter

This month the newsletter features the President's Letter including the Sports Pages, Pictures From Xenia Hamvention 2017, PVRC's Youngest Contester, NSS Patch, Southwest VA Chapter Photos, Field Day 1969 at W3IN, and more! Click Here for the Full July 2017 Newsletter
Fowlfest - August 26
August 26 is the date for Fowlfest and 11:30 AM is the start time. Plans are to hold it at Seneca Creek State Park in the Bob White pavilion. For you GPS guys the address is 11950 Clopper Road. The park is accessible from exit 10 off of I270. A fee of $3.00 /pp for MD residents and $5.00/pp for out of state residents. This is an NCDXA and PVRC Regional event. There are private shaded areas with room for chairs outside of the pavilion. Electricity for radios along with towering pines 80 feet tall for hanging antennas. Plan on festivities ending at 3 pm. However, the pavilion is rented for all day. This is a Rain or Shine event. Funding is provided by Fred K3ZO for food costs excluding the pavilion. The RF Connection is sponsoring rental of the pavilion and the NW chapter of PVRC is providing the advertising. Look for WX3B's announcements.
NR4M - Saturday September 30
Open house and cookout for PVRC members, and contesters.

Sponsored by: NR4M and the Goat Farm Gang (PVRC Rappahannock chapter)

Location: NR4M QTH Locust Grove, VA

Date: Saturday, Sept 30 @ 12 noon

Lunch to include: Barbequed pork ribs, pulled pork, burgers and brats Soft drinks, water, ass't beer Although not required, bring a side dish to share, if possible.

*** Nominal cost of $5.00, paid in advance *** (This guarantees a 'head count' for purposes of food purchase. You will get your $$'s worth.)

Bring a lawn chair. Little shade outside, but plenty of A/C inside large garage.

RSVP and your $5 to Dan, W0CN. Email for PayPal payments: [email protected] (Pse choose PayPal's 'friends and family') If you prefer to pay by check, 1807 Mason Hill Dr., Alexandria, VA 22307, - Payable to Dan Hausauer.

Questions or special dietary needs, contact NR4M. [email protected]
Introduction to PVRC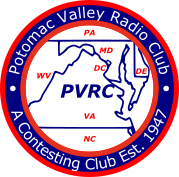 PVRC has a rich history going back to its foundation in 1947, with valued traditions defining our club.

"Once PVRC, always PVRC" expresses a positive open-ended membership policy reflecting the many lifetime friendships formed in the club. Many of these friendships now span the US and the globe, with PVRC alumni found in nearly every other major radiosport club.

Though we began as a small local club in the DC metro area, over the years we grew to in-territory membership in six states and DC. To foster the original local experience all across the PVRC territory, we are organized in local chapters. Over a dozen chapters provide members easy travel to meetings for the face to face experience that is the source of tower parties, physical help, elmering, personal encouragement, and just plain fun - the glue that bonds us together.

PVRC members are e-wired, in constant communication via the PVRC e-mail reflectors. We use the reflectors to organize and function as an entire club, schedule club-wide events, set ourselves up for contests, share experience and access the incredible knowledge base of our members. We draw our officers and trustees from all across the club territory, and they largely communicate across this geography via electronic means.

The PVRC 5 Million Award Program recognizes our members' contribution to club competition by awarding points for scores submitted on behalf of PVRC. We award a very neat plaque for reaching 5 million points with endorsements for levels beyond.

Please explore the PVRC web site to learn more about us, and we cordially invite you to contact an officer or a Chapter Chair to begin exploring how membership in PVRC can benefit you as a radiosport player and competitor!
Officers for 2017
Check the contacts page for full details. President is Bud Governale, W3LL, Vice Presidents are Ted Edwards, W3TB and Dan K2YWE, Secretary is Tim Shoppa, N3QE and the Treasurer is Tom Valenti, K3AJ.