W4KFC on W3GRF
K3ZJ came across a fascinating article penned by W4KFC in which Vic described in March 1961 CQ Magazine Lenny's quest for a winning QTH. Vic W4KFC and Lenny W3GRF were founding members of PVRC after WWII, and Vic was a natural story-teller. It shows in this article. (Vic later was elected president of ARRL, but his term was cut short by a fatal heart attack.)

Click here for the whole article: One Man's Family of Antennas, by Vic Clark W4KFC
February 2017 Newsletter

In the February 2017 newsletter: President's Letter, Straight Key Night pictures, PVRCers in Action, PVRC Reaches WRTC2018 Gold Sponsorship Level, PVRC.org nearly 20 eyars old!, Death Valley CWT Contesting, and more! Click Here for the Full Newsletter
The NAQP Challenge Cup Chapter Tour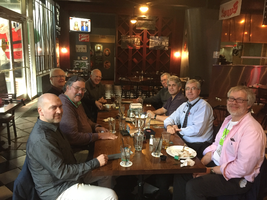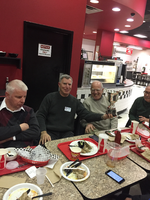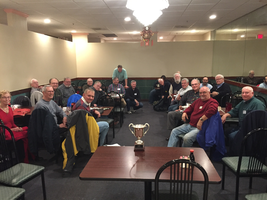 Don't miss the NAQP Challenge Cup as it travels through your nearby chaptrs! Full schedule below.
| Chapter | Date |
| --- | --- |
| Annapolis | 28 Dec16 |
| Downtown DC | 04 JAN17 |
| DC Metro | 10 JAN17 |
| NW | 18 JAN17 |
| Laurel | 25 JAN17 |
| NC East | 02 FEB17 |
| Frostfest | 04 FEB17 |
| Williamsburg | 09 FEB17 |
| SWVA | 15 FEB17 |
| NC West | 20 FEB 17 |
| Rappahannock | 07 MAR17 |
| Tidewater | 21 MAR17 |
| Lunch Bunch | 29 MAR17 |
| W3LPL OH | 17 JUNE17 |
| W3AO FD | 24 JUNE17 |
| Fowlfest | 26 Aug17 |
PVRC Wins 10 Major Club Competitions in 2015
In 2015, PVRC wins first place North American club in 10 Major Club Competitions!

Congratulations to ALL PVRC members who contributed to these huge scores!

In 2015, PVRC was top NA club in these contests: ARRL 160M, ARRL June VHF, ARRL RTTY Roundup, ARRL Sweepstakes, CQ 160M, CQ VHF, CQ WPX, CQ WPX RTTY, CQ WW RTTY, and Russian DX.
PVRC Wins 2016 NAQP Challenge
K9WX has announced results for the 2016 NAQP Challenge and PVRC is #1 in this annual competition with SMC and NCCC!

230 PVRC'ers showed up and competed in at least one NAQP session, and 15 of them showed up for ALL SIX SESSIONS. This is an amazing level of participation, thanks to all!

Please see K9WX's Summary and his full participation report for more details.

Welcome to the new Roanoke-Blacksburg Chapter

PVRC President, Bud W3LL, announces the creation of our newest chapter: Roanoke-Blacksburg Chapter. "Cowboy" Bob McGwier, N4HY, has been appointed as the first chapter president. Bud said "Both Mark N2QT and I had been working diligently toward creating this new chapter for over a year, just waiting for the right person to lead it. We found that leader in Bob!"
Introduction to PVRC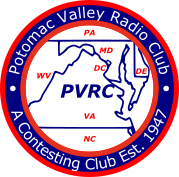 PVRC has a rich history going back to its foundation in 1947, with valued traditions defining our club.

"Once PVRC, always PVRC" expresses a positive open-ended membership policy reflecting the many lifetime friendships formed in the club. Many of these friendships now span the US and the globe, with PVRC alumni found in nearly every other major radiosport club.

Though we began as a small local club in the DC metro area, over the years we grew to in-territory membership in six states and DC. To foster the original local experience all across the PVRC territory, we are organized in local chapters. Over a dozen chapters provide members easy travel to meetings for the face to face experience that is the source of tower parties, physical help, elmering, personal encouragement, and just plain fun - the glue that bonds us together.

PVRC members are e-wired, in constant communication via the PVRC e-mail reflectors. We use the reflectors to organize and function as an entire club, schedule club-wide events, set ourselves up for contests, share experience and access the incredible knowledge base of our members. We draw our officers and trustees from all across the club territory, and they largely communicate across this geography via electronic means.

The PVRC 5 Million Award Program recognizes our members' contribution to club competition by awarding points for scores submitted on behalf of PVRC. We award a very neat plaque for reaching 5 million points with endorsements for levels beyond.

Please explore the PVRC web site to learn more about us, and we cordially invite you to contact an officer or a Chapter Chair to begin exploring how membership in PVRC can benefit you as a radiosport player and competitor!
Introducing the 5M 20 for 20 Award!

Contribute as a single op or as part of a multi op a minimum of 20 QSO's in 20 different 5M contests, including a minimum of one each single mode CW, SSB/Phone and RTTY entry from the 29 available. Full details under the 5M Reference Button above!
Officer Changes
Bill Hider N3RR has submitted his resignation letter to the President and has been accepted. Bill has provided many years of leadership to the club especially in his role as Treasurer. The Board of Directors has announced a couple of changes. VP Tom Valenti, K3AJ, has been appointed the new treasurer. The Board also announced the appointment of Dan Zeitlin, K2YWE, of the Annapolis Chapter as the new VP vice Tom. Dan has been a member of PVRC since 1996. All changes are effective immediately.
Officers for 2016
Check the contacts page for full details. President is Bud Governale, W3LL, Vice Presidents are Ted Edwards, W3TB and Dan K2YWE, Secretary is Tim Shoppa, N3QE and the Treasurer is Tom Valenti, K3AJ.
PVRC's CW Super Hero N3JT on WUSA-TV9
Jim Talens explains our continuing love affair with CW on the WUSA-TV9's Open Road segment. Watch the segment on the Open Road website here!
PVRC Calendar
Want to add a PVRC event to this calendar? Please Click Here and let us know the details!
PVRC Calendar in iCal format is available By Clicking Here.
Color coding: Red=5M Contest&nbsp&nbsp

Blue=Chapter Meeting

&nbsp&nbsp

Green=PVRC Event